Greg Rajan,
April 21, 2021 Updated: April 21, 2021 at 1:53 p.m.
Astros Minor Leaguers CJ Hinojosa (left) and Grae Kessinger model the special "Honey Butter Chicken Biscuits" uniforms of the Corpus Christi Hooks, which will be worn during the home games on Wednesday this season.
Courtesy Corpus Christi Hooks
Astros' Class AA subsidiary is adding a tasty nickname this season.
Corpus Christi Hooks announced on Wednesday that the team will be called Honey Butter Chicken Biscuits for Wednesday's home games this season. This pays homage to the popular breakfast item from Whataburger, the owner of the naming rights for the team's stadium near the Corpus Christi ship canal. Whataburger was founded in 1950 in Corpus Christi.
During the home games on Wednesday at Whataburger Field, the Hooks wear jerseys with the traditional orange and white stripes of Whataburger. The numbers on the back of the jersey correspond to those on the restaurant's table tent posters given to guests while they wait for their orders.
The team will also wear a special "grilled orange" as well as a white hat and orange socks. Of course, fans outside the bend in the coast can buy the new goods online. The hooks season begins on May 4th.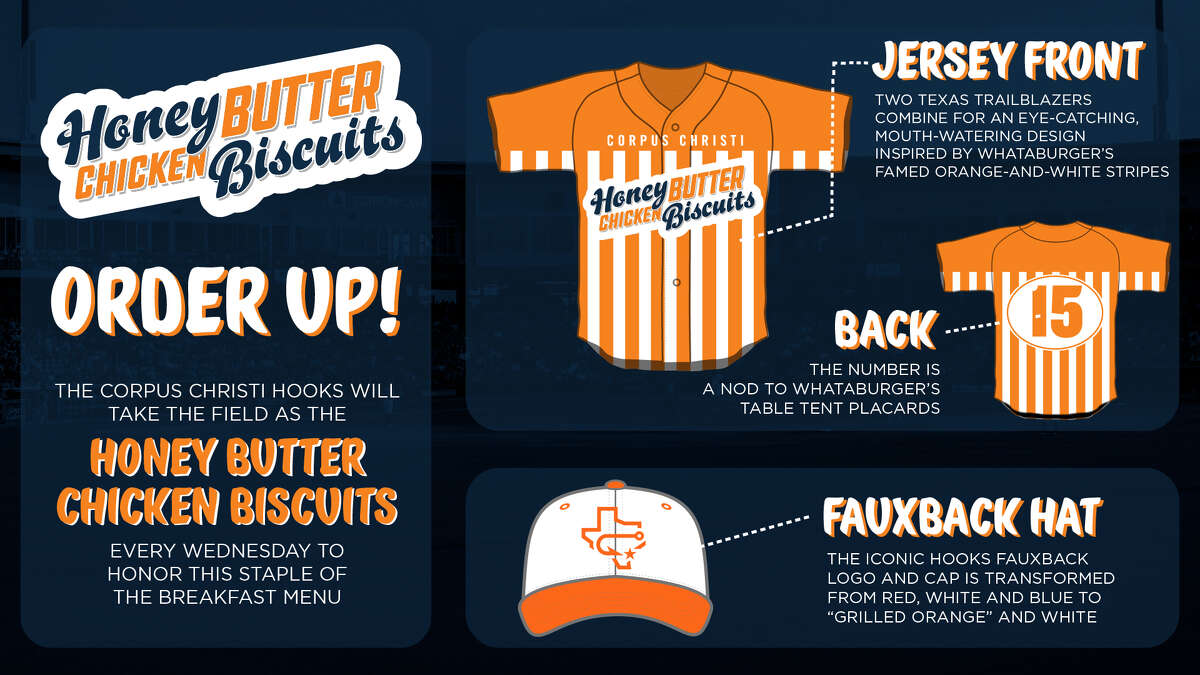 Corpus Christi isn't the only minor league team to use a biscuit-themed nickname. Tampa Bay's Class AA subsidiary of Montgomery, Alabama, has been nicknamed Biscuits since 2004.
Wednesday's announcement marks the second food promotion of the season for the Astros subsidiary. For the home games on Sunday the team drives with "Corpus Christi Raspas", an allusion to the famous South Texas Snowcones.
Corpus Christi Raspas return to Whataburger Feld with fresh flavors every Sunday!
: https://t.co/8lC0QnQXUf pic.twitter.com/sWXQFdFRcH
– Corpus Christi Hooks (@cchooks) April 19, 2021

Greg Rajan is the executive editor of Texas Sports Nation, the Houston Chronicle's sports website, and also curates the TXSN daily newsletter. He joined Chronicle in January 2015 as an online sports editor. He previously worked as a sports editor for Corpus Christi Caller-Times. He led this sports division to three top 10 Associated Press Sports Editors awards, and his work has been recognized by APSE and the Texas Associated Press Managing Editors. He has also worked for the Austin American-Statesman and Temple Daily Telegram.
He is a graduate of Southwest Texas State University and Bowie High School in Austin.