Project Lookbook: Ideas and Inspiration for Your New Home
Oct 7
When building your dream home, finding the right land and house design is essential. However, the finer details of style, character and finishing touches are equally important, as these are the elements that will give your new home its flavour and make it uniquely yours.
Display homes are a great place to visit to start bringing your vision to life. But to find the unique touches that will help you create a home that's the perfect fit for your tastes, lifestyle and family, you'll need to dig deeper. Our recently completed homes offer you a glimpse of the real life features that will add simplicity, comfort and luxury to your life, and in doing so provide you with the insight you need to add those special touches into your design.
So to save you the time and effort of searching online, we've pulled together a collection of clever and inspired ideas from our recent projects to help you complete your new home vision.
Living zones that are a joy to be in

Yarck project
Your living zone should be a place where you can relax in beautiful surroundings, so striking a balance between style and comfort is key. It is here that you can add bold and subtle touches through your choice in colour and furnishings to really reflect your personal tastes.
For example, the in-built fireplace, wall-mounted television and splashes of colour combine well to create a bright, clean modern feel in our Yarck project shown above.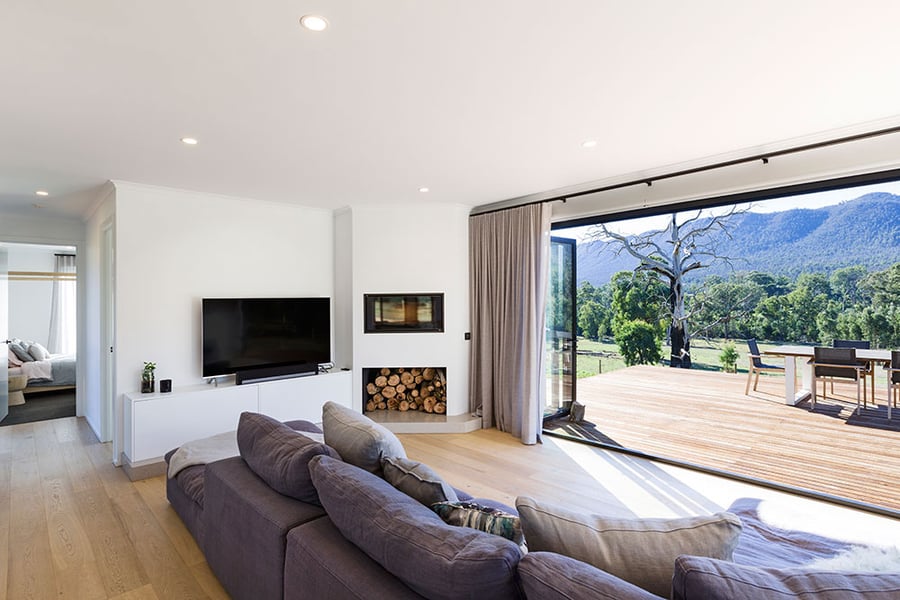 Buxton project
Our Buxton project has a similar clean modern style, featuring an in-built fireplace and wood storage. However the inclusion of bi-fold doors that open out to the sunny deck creates a genuine flow and connection between the outdoors and in, giving the room a very different look and feel.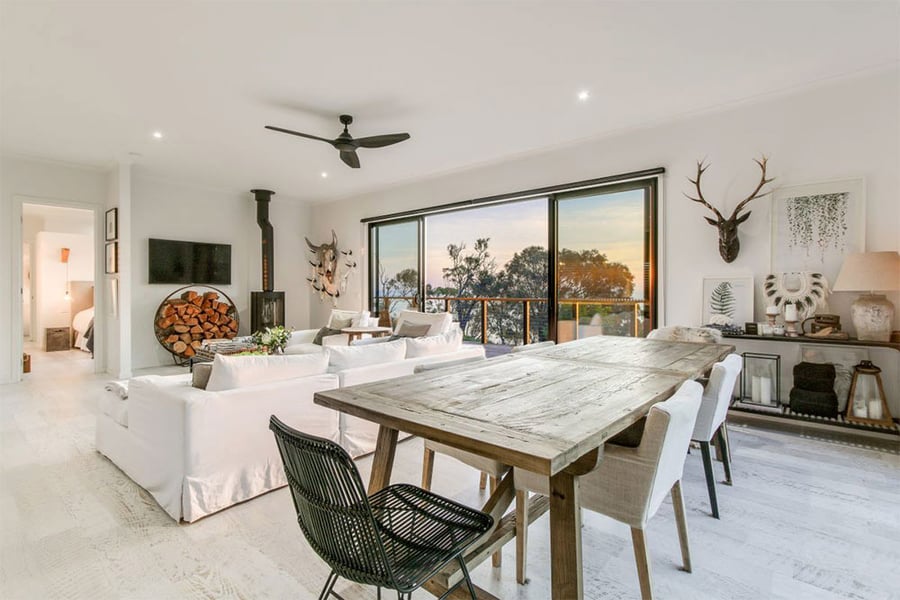 Metung project
The living zone in our Metung project has a more rustic vibe that suits the waterfront location. The decorative pieces complement the furniture and colour scheme perfectly, creating a space that is unique and inviting.
Kitchens that set the tone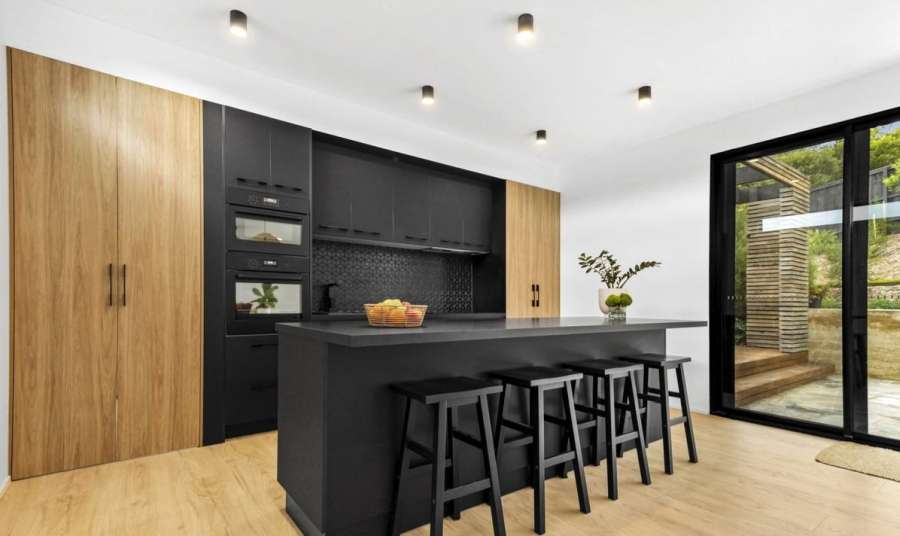 Recently built home in Rye

Gone are the days when your kitchen was all about function—today, it is often the centrepiece of the home. This kitchen we built in Rye is a great example of this, with the striking black contrasting with the warmth of the timber to really make a statement.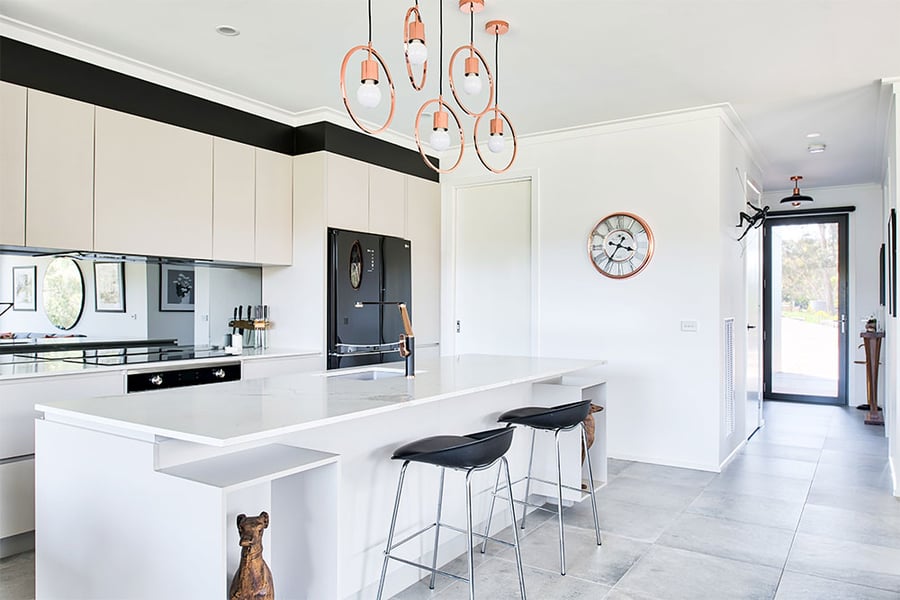 Daylesford project
On the other end of the colour spectrum, our Daylesford project features a bright, modern kitchen with some luxury touches that elevate it to something special. The mirrored splashback, rose gold tapware and matching pendant lighting are all well-chosen upgrades that work wonderfully well together.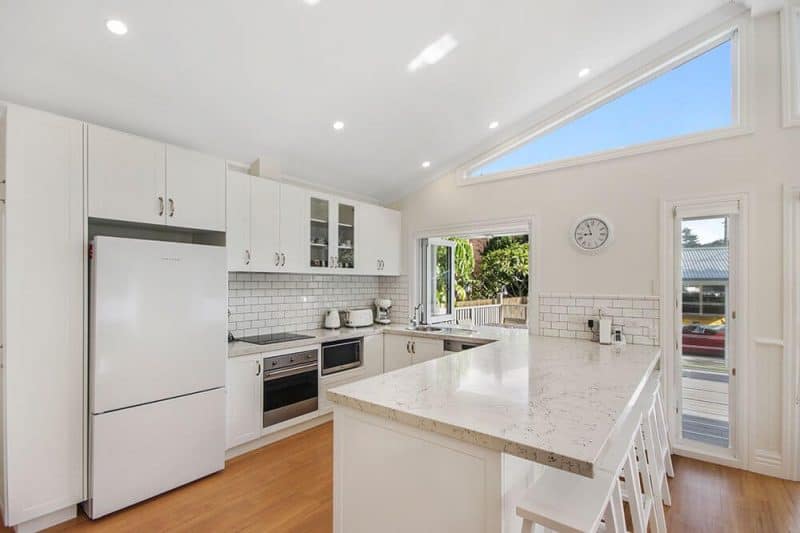 Patonga Beach project

Showcasing a completely different style that our clients have called 'beach federation', our Patonga Beach project is a custom design that is unique in every way. The raked ceiling and highlight window gives the kitchen a bright and spacious feel and the bi-fold window opening to the outdoor alfresco area connects the two spaces beautifully.
Bedrooms to wake up happy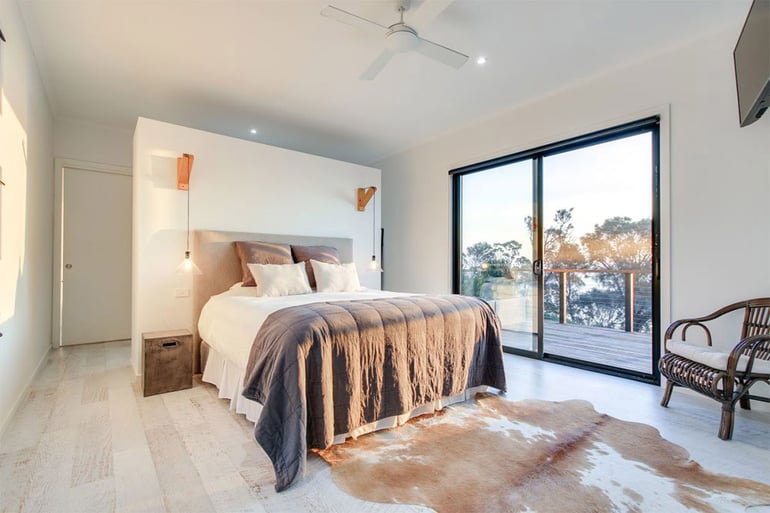 Metung project

Waking up in a space you love is a great way to start the day, so make sure your bedrooms include some special touches. In our Metung project, a floating wall with decorative lighting hides the walk-in robe, while large sliding doors provide instant access to the deck and water views.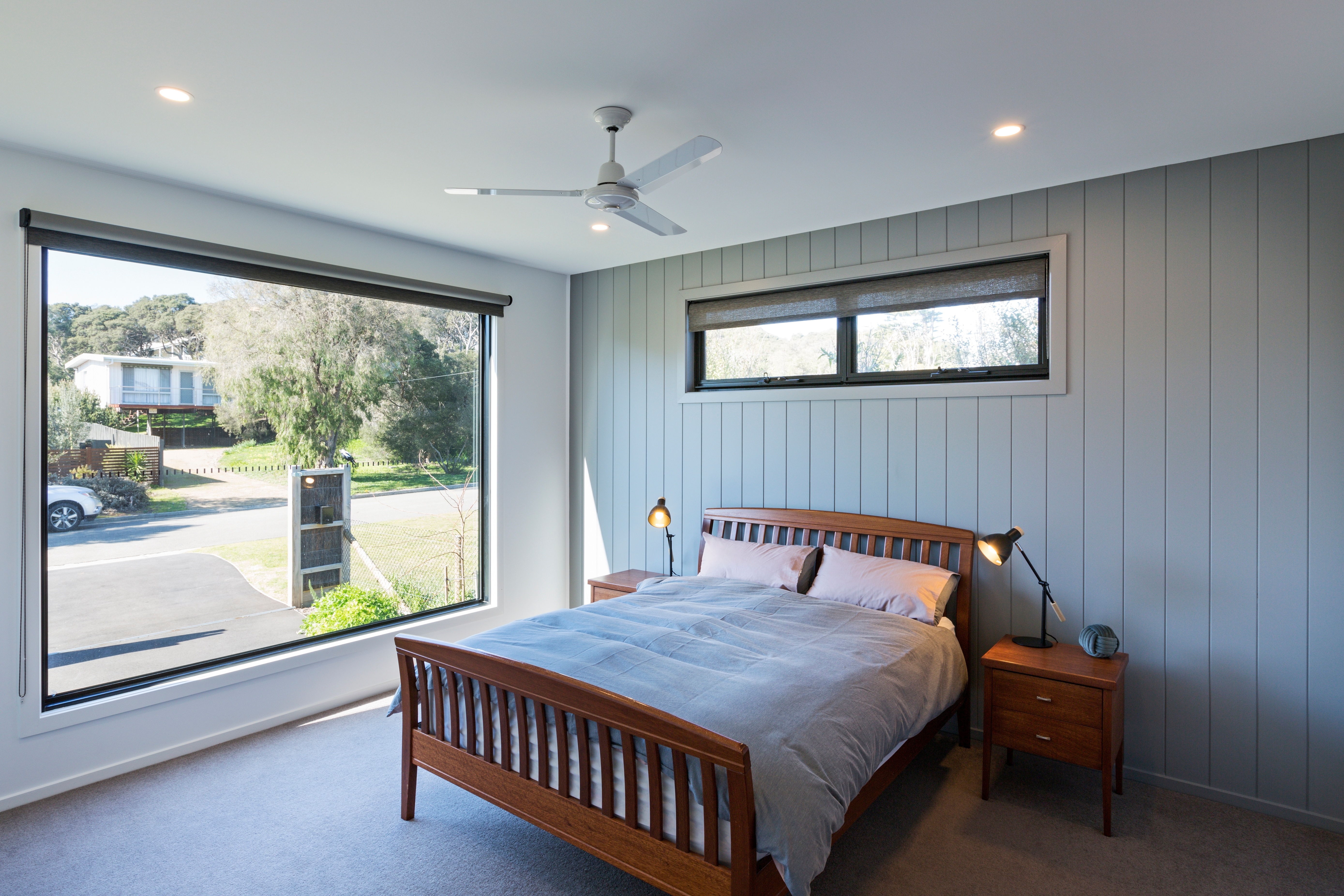 Rye project
Our Rye project includes a decorative feature wall, where timber cladding has been used to add to the relaxed seaside vibe. The large picture window lets in plenty of light which helps to offset the darker colour of the timber.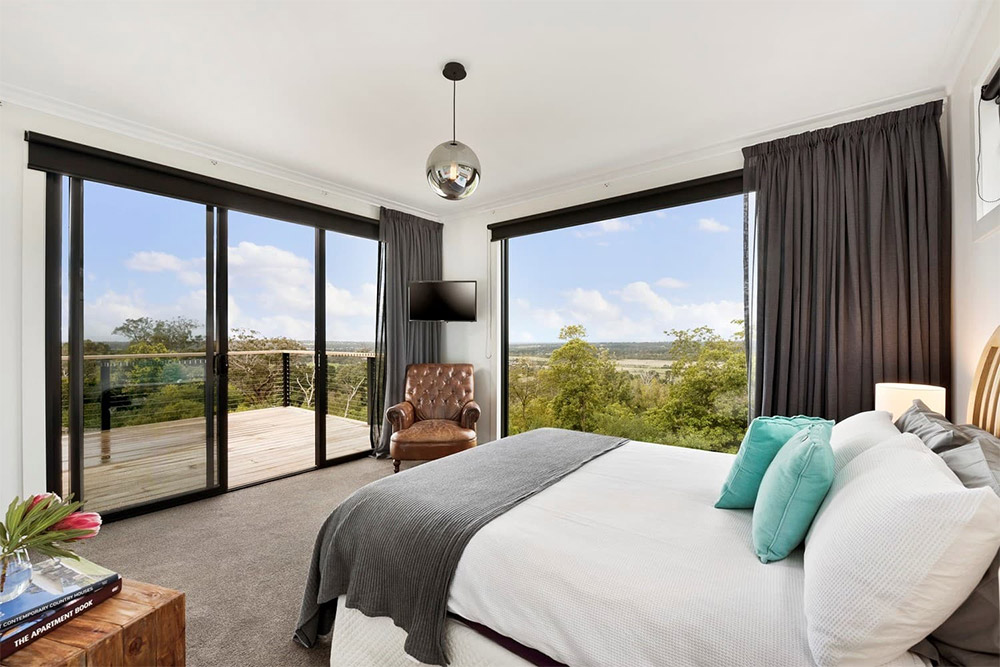 Frankston project
If you are lucky enough to be surrounded by spectacular views, be sure to frame them. In our Frankston project, the elevated outlook has been beautifully captured by two large windows, creating an almost panoramic effect. The sliding door access to the deck makes it easy to slip outside and take a closer look. 
Bathrooms for style and function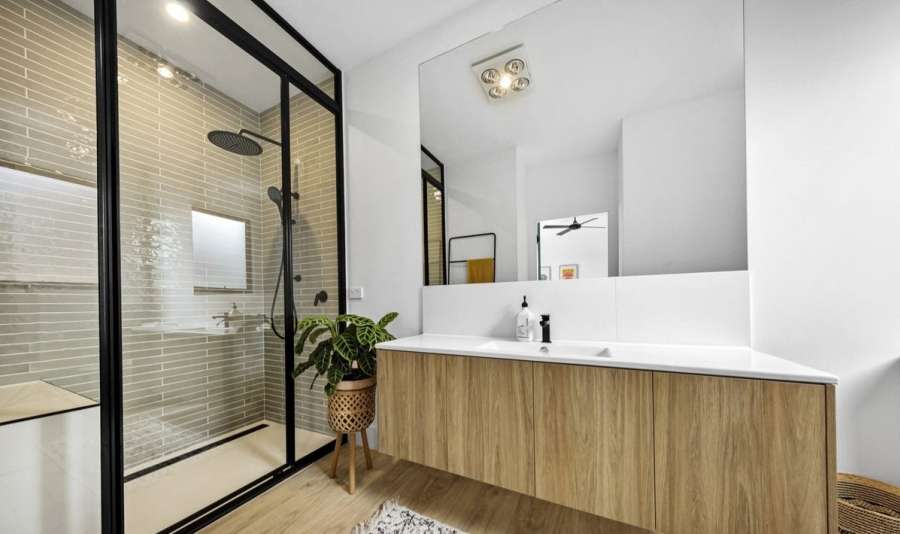 Recently built home in Rye
Like kitchens, bathrooms have become a statement room where style and practical function are of equal importance. In this recently built home in Rye, our clients selected black framing and tapware, which really pops against the timber cabinetry and sandy tiles.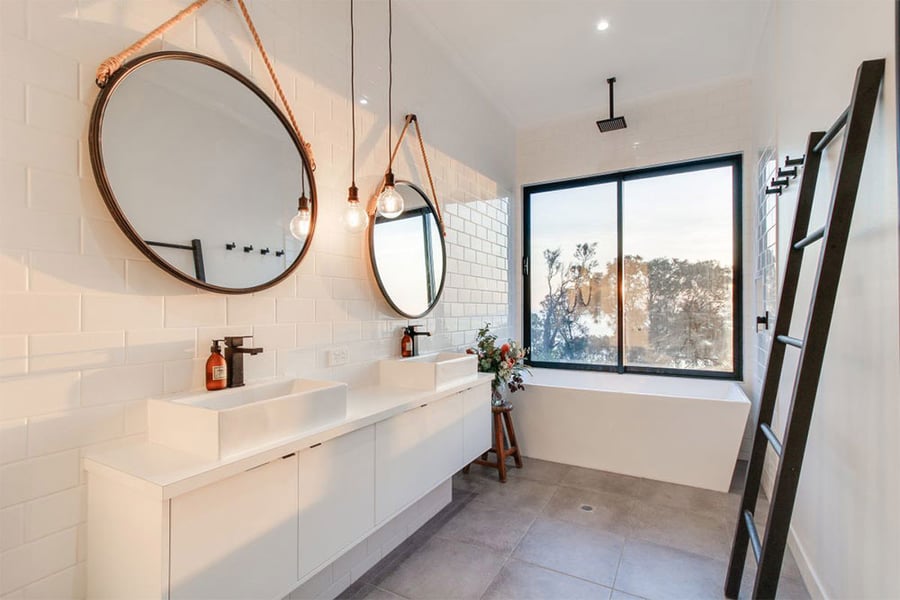 Metung project
The twin basins and feature mirrors, along with the pendant lighting give this bathroom in our Metung project a luxurious feel. Add to this the freestanding bath with a view and open shower, and the result is a very stylish space.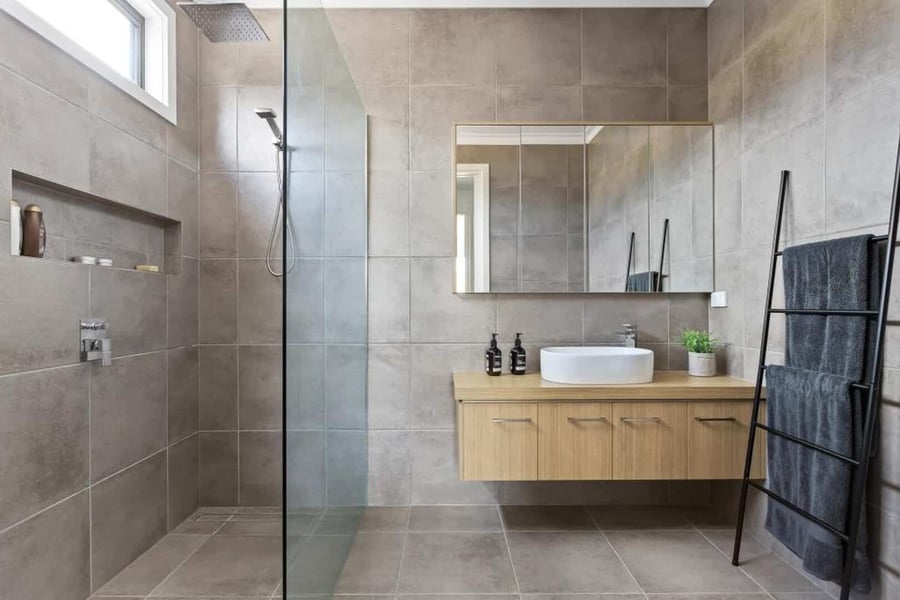 Yarck project
Your design doesn't need to be complicated to stand out, as this stylishly understated bathroom in our Yarck project shows. The floor to ceiling tiles, frameless screen and built-in shelf are all common upgrades that work well to up the style factor.
Outside features that make a statement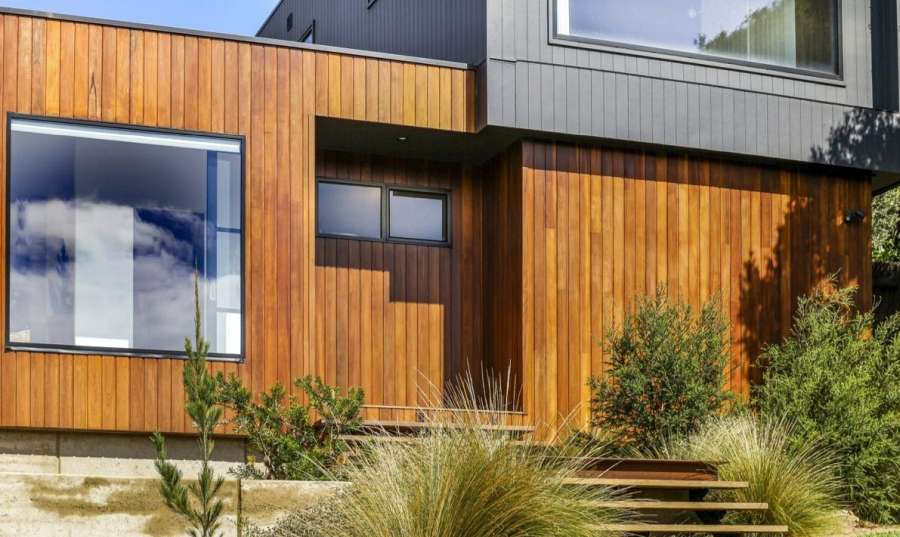 Recently completed home in Rye
If you're looking to make a statement outside, contrasting cladding is a simple but effective way to add interest to your exterior. Spotted gum timber paired with darker Weathertex is a popular choice that works well in coastal, rural and urban settings.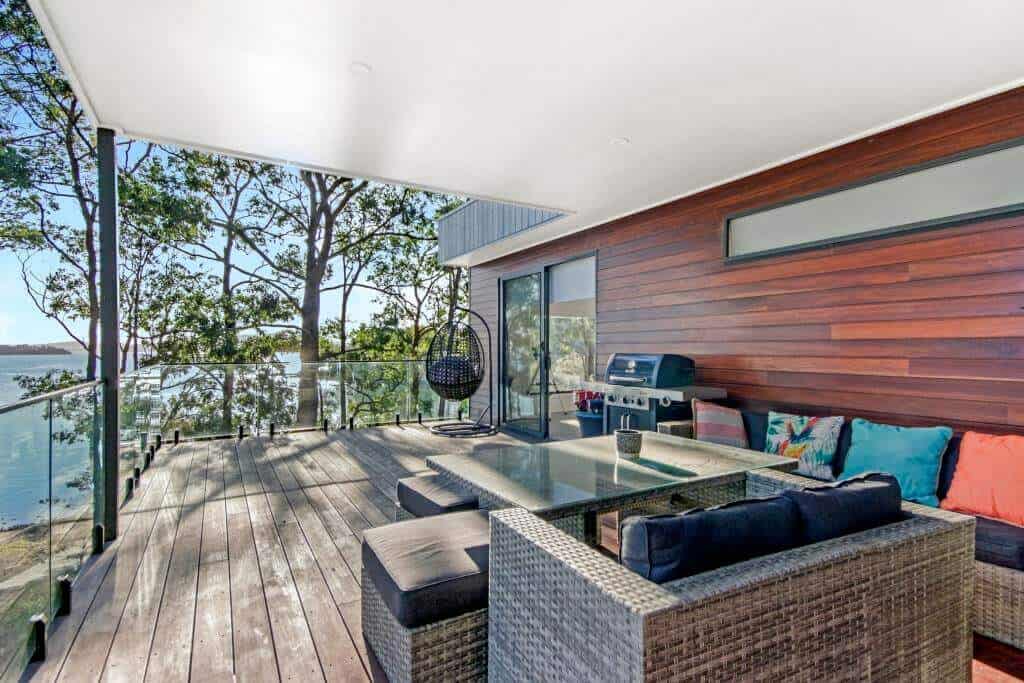 North Arm Cove project
Having a comfortable outdoor area that you can use throughout the year is now a top priority for many and if you love the outdoors it is a great investment. Covering some or all of your decking allows you to get outside in any weather, as shown above in our North Arm Cove project.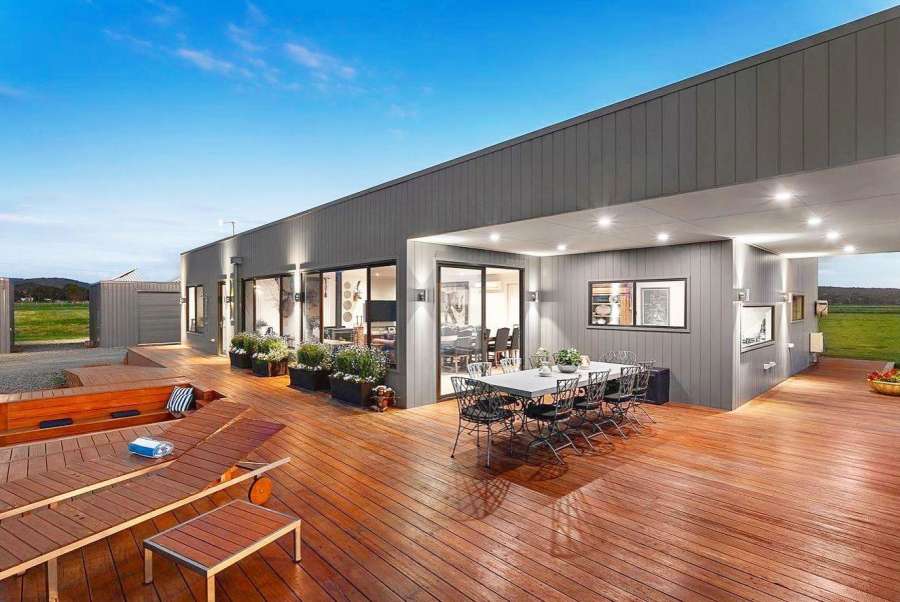 Recently built home in Grantville
This modern home in Grantville has the best of both worlds. The cosy undercover area is all set up to enjoy a meal, while the open deck is perfect for enjoying the sunshine in the day, or stargazing at night.
Find your style and make your new home your own
Building a new home involves many design decisions, and this can fast become overwhelming if you're not clear on your final vision. Taking the time to look at completed projects before you build can really help to bring clarity around what you want and need in your new home. This not only makes the process easier, it also means the end result exceeds your expectations.
Have a question about building a modular home? Please contact our team or post a comment below, we're always happy to help!